Licensed Vocational Nurse - Corrections
Job Type | Night Shift Category | Nursing Department | Detention Health Care-Adults
Overview
Becoming a Nurse at University Health is a great way to step up and be there for the people of South Texas. They look up to us, and as a Nurse at UH, we'll look to you to help carry out this mission in an environment that has been designated, and redesignated, as a Magnet Health Organization by the American Nurse Credentialing Center (ANCC) for more than a decade. From your first day, you'll be hands on with our patients while gaining valuable experience, earning excellent benefits and making a real impact on people's lives.
Full Time
Level:
Travel: Minimal (if any)
Salary: $63K-$96K

URL for glassdoor logo needs to be replaced.

Glassdoor logo rating needs to be replaced with client rating. The last two numbers "01" should be updated with the client company number. You can find the company number on the reviews page of the company for example TMP's url is https://www.glassdoor.com/Reviews/TMP-Worldwide-Reviews-E247764.htm and the company number for TMP is 247764.In addtion to 'horizontalStarRating' you can change this to 'verticalStarRating'
Success Profile
What does it take to build a successful Licensed Vocational Nurse - Corrections? career at University Health? Take a look the top qualities we're after and see if you have the right mix.
Collaborative
Compassionate
Empathetic
Problem-solver
Detail-oriented
Strong Communicator
At University Health, we are strongly committed to quality, compassion and innovation in everything we do here and in our community.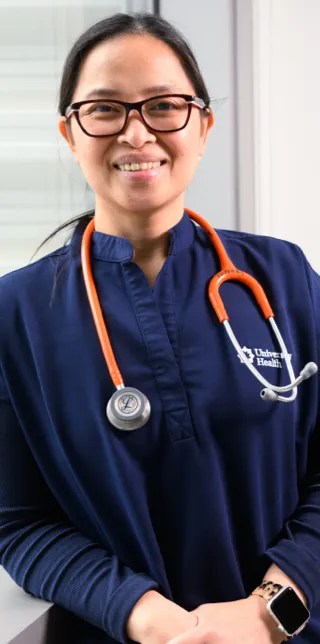 This is a great place to be exposed to

many different types of patients, procedures and disease processes.
- Lourdes Tuliao,
Acute Care Nurse
Learn more about what it means to be a nurse at University Health
Benefits
We believe in taking care of those who care for our community and provide each of our health care professionals with the benefits they need to thrive in all aspects of their lives.
Rewards
Learn about our rewards.
Healthcare

Medical: Excellent coverage for individuals and families with very low premiums and co-pays, and ZERO co-pays for medications filled at University Health. Dental, vision, pet insurance, flexible and health spending accounts.

Paid Time Off (PTO)

Generous accrual rates that start on day one.

Retirement

We offer both a 457(b) and 403(b) deferred compensation programs.

Education Reimbursement

Including college tuition reimbursement up to $600 per semester, continuing education up to $400 and certification reimbursement.

Life and Disability

Basic life paid by University Health, with optional plans for life and disability insurance.

Health and Wellness

Employee discounts, including gym memberships, employee health clinic, healing arts program, community events.
Responsibilities
Job Type | Night Shift Category | Nursing Department | Detention Health Care-Adults
POSITION SUMMARY/RESPONSIBILITIES
Provides nursing care that is efficient, appropriate, and therapeutic for patients while ensuring that established security requirements are maintained (as defined by the Bexar County Adult Detention Center and Central Magistrate's Office). Continuously monitors the condition and status of patients and delivers care that meets or exceeds established standards. Supports and adheres to University Health (UH) and Detention Health Care Services (DHCS) policies and procedures. Demonstrates behaviors consistent with UH mission, vision and values. Promotes excellent internal and external customer relations.
EDUCATION/EXPERIENCE
 Experience in correctional health care, psychiatric nursing, or nursing in an emergency environment is preferred. Prior knowledge or experience within the University Health's nursing services and/or certification as a Certified Correctional Health Care Provider (CCHP) is also preferred.
LICENSURE
 Must possess a current license to practice Vocational Nursing in the State of Texas. Must also maintain current CPR certification.
Events
We host a variety of events designed to educate our staff and community members on a wide range of subjects, from valuable skills to support and more.
Sign Up for Job Alerts
From roles that align with your skills and experience to new opportunities, we can keep you up to date with new listings and more. Sign up to learn more.